December 30, 2010
The temperature has lowed and the leaves of Yuzuriha begun to decline. Almost no change for Akinire, all leaves were done last month. Ubamegashi looked okay. All these plants must leave home to Sea Forest by Fall, next year. See pictures:
Bud
November 30, 2010
Akinire-Ulmus parvifolia leaves have falling to the ground. Branches got bit thick compared to last year. We found many blossom buds which will have new growth in Spring season, next year. Soon, the temperature will go down to cold, we feel we have to prepare to protect those pots against cold temperatures. See pictures:
Participation as leader for plantation of trees
November 6, 2010
We are so fortunate to participate as leader(s) for the plantation for the Autumn event of planting the trees in the land of Sea Forest. The weather condition was almost perfect and many volunteers have joined and enjoyed the event. We, NPO Green Wave have coordinated the plantation with the peoples from Toshiba Corporation and Certified-NPO Association for Nature Restoration and Conservation, Japan. Most of them have skills and enough knowledge about the trees. This time, the area for plantation is sloped land space and thus it was necessary that the planting the trees in straight fashion. The Sea Forest Project will be completed in Heisei-year 48, 26 years from now. See pictures: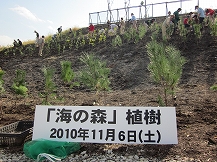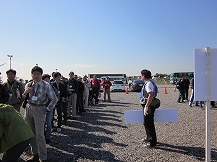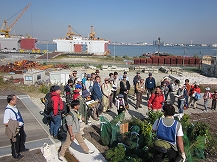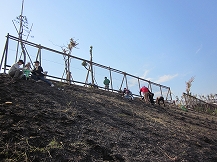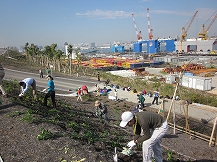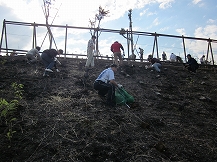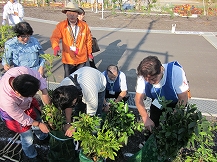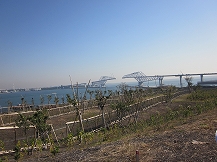 Autumn color of leaves of Akinire-Ulmus parvifolia
October 31, 2010
Color of leaves have started along the Autumn season. This is the second season. We will not forget the excitement that even this small plants have the natural habit of changing the colors of leaves. Trees became red such as Ubamegashi-Quercus Phillyraeoides, and Yuzuriha-Daphniphyllum teijsmannii. See pictures:
What happened? The garden of Green Wave?
September 30, 2010
Because and due to the complicated reasons, the big trees of Green Wave garden were mostly cut down recently. Those trees have been protecting those nursery plants from the strong sunshine during the summer and heavy rains and winds in the past. Those nursery plants were germinated from Donguri-corn, formulated among the big trees originally and came to Green Wave garden. So far, it was fortunate for those nursery plants because those trees had protected and kept environments for their growth. We worry much about those plant grow up during the summer in 2011. See pictures:
Without any dried up…
August 31, 2010
Still hot temperature continues every day, it was necessary to spray enough water twice a day, morning and evening, and those plants were able to survive from dried ups. We came to know that many of nursery plants were dried up by other NPOs due to the extreme heat this summer and that was so tough to those nursery plants. This was reported at the meeting of volunteered NPOs at the Tokyo Metropolitan office the other day. See pictures:
30 C
July 25, 2010
Temperature of high 30's continued in these days. It might be so tough to those nursery trees but they enjoy water spraying during the summer days. This day, the temperature was 34 C but those nursery trees of Green Wave are well balanced to receiving the strong sun shine. Those plants were placed under the adult trees so they are making the balance of sun shines. See pictures:
Growing periods
June 4, 2010
Those nursery trees seemed imagining of strong sunshine continued every day as if real summer season has come. Most of fresh leaves of young trees have spreading along with the stems made growth. We saw lots of mosquito in the seed-beds area, therefore, insect deterrent is necessary upon observing the seed-beds. We thought that we have to do treatment of taking out the weeds.
Measurement of nursery plants
May 7, 2010
During the Golden-week, end of April through first week of May, the weather continued fine every day and healthy sunshine have covered the land and those fresh tops looked very active and expanded. We conducted the measurement of fresh tops to make a report to Tokyo government office.
High temperature like early summer weather
April 25, 2010
The weather condition during the month of April was hot and cold like Texas Weather but later half of the month was quite moderate with the temperature of above 15digree centigrade. We felt like the temperature was beginning of summer season and those young trees seemed to show their growth and fresh tops have spread over the land.
Plantation event day
April 2, 2010
Every body has expected this day with full of interests. However, weather condition was so bad specially strong wind were hitting the whole city of Tokyo area. Some portion of public transportation including high-ways were bothered the operation. But anyhow, all volunteers have assembled the place for the plantation event. We planted the trees such as, Ubamegashi, Yabutsubaki, Ohshima-zakura, Shirakashi and Enoki, totaling about 150 nursery trees while weather condition settle down and less rain and wind. We wished that those small young trees will grow steady and healthy. In addition to 4 peoples from NPO-green wave, including Tokyo Metropolitan government, 4 other individual have participated despite of regular week days.
We want to express our thanks to those people;
Ms. Motoko Kato-Japan Red Cross Herb & Flower Asso. volunteer
Mr. Yukio Toyoda-Advisor, Nihon Landscape Design Company
Ms. Yoko Naoe-Japan Red Cross Herb & Flower Asso. volunteer
Mr. Takaharu Horiuchi-Japan Red Cross Herb & Flower Asso. volunteer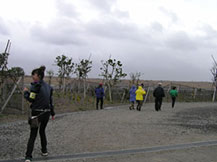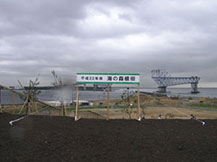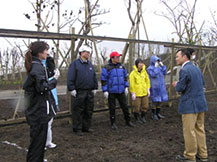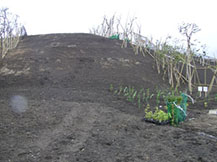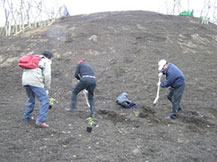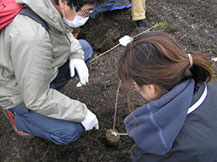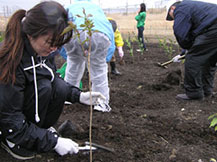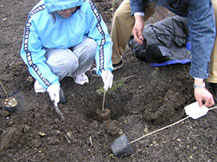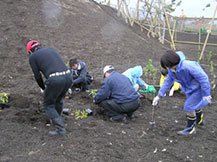 Changes in leaves
March 16, 2010
In the past days, the weather condition was nothing good and temperature was so low. However, in these two to three days, fine weather continued. The temperature on this day was some 21 degrees Celsius. It gave positive impact to Yuzuriha(Daphniphyllum acropodum). Wilted leafs seem to get energy from the Sun and we saw many leafs revitalized and tight. We saw many fresh tops of Ubamegashi(Quercus phillyraeoides). We worried much about Akinire(Ulmus parvifolia), they also revitalized and more new leafs have covered the pods. It is expected that those nursery trees will surely make steps to grow by the time spring rolls around.
Yuzuriha is bowing!!!
February 7, 2010
During the month of February, there was snow showers in Tokyo. It was like one to two centimeters yet it whole lightly dusted the land with snow. We've covered the newspapers on top of seed-beds to protect from the snow. This was the first time for those nursery trees to experience the snow. We found no damage. We thought it is better for them to leave as it is to experience the natural habitat, while we observe their growth. In the future, we are hoping that they will grow in Sea Forest areas.
A frosted land space
January 17, 2010
It has past new year days, however the air is dry due to no rains in these days and temperature is low. All nursery pods were covered frosted. Worried much about those nursery pods. The leaves of Daphniphyllum macropodum(Yuzuriha) placed down protecting own roots from the cold temperature. All other nursery plants seem to take strong roots in soil. For the purpose of mulching, we've added plenty leaf soil to every pods.