HOME>Activities and what we do>Sea Forest Project
Sea Forest Project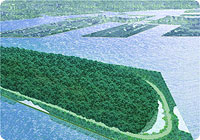 "Not for Us, but for our Children", this is the slogan for the Sea Forest project. It will take quite long time that the forest could perform similar to the operation of lungs of the Earth. The Project for the Sea Forest is targeted in 50 years in future of the Earth.

We have donated the charity amounts to 'Green Fund of Tokyo'-placed within National Land Afforestation Promotion Organization where we collected at the Minato Festival.
What is Sea Forest project?
The Sea Forest is the area of landfill(disposal) ground located in Odaiba(Marine Park development area within the Tokyo Bay) with the volume of disposal, total weight of 123,000 tonnage which was stored in total of 14 years started during the year from 1973 to 1987. The Sea Forest park has the size of approximately 88 hectares, about 19 times the size of Tokyo Big Egg, baseball park in Central Tokyo. The project will take 30years and targeted to produce 'Clean and Green' forest of land.
The Sea Forest has 3 major objectives
1. Wind Passage
Creation of a wind passage into Tokyo metropolitan city center area which eventually causing the heat-island effects. The park will be the origin of wind passage of that purpose.

2. Recycling for Soil
Along with creating compost from pruned branches and leaves from Tokyo's city parks and street trees, soil for the forest will be created by using waste soil from water purification plants.
3. Collaborative Activities
Citizens, Business corporations and public administrations will cooperate, support and protect the Sea Forest project. Trees will be planted using seedlings as well as forest cultivation will be processed with the cooperation of citizens, business corporations and NPOs. The Green Wave will act to assist in seedlings with this project.