HOME>Activities and what we do>Noto Satoyama Forest and Forestry Conservation Act Project
Noto Satoyama Forest and Forestry Conservation Act Project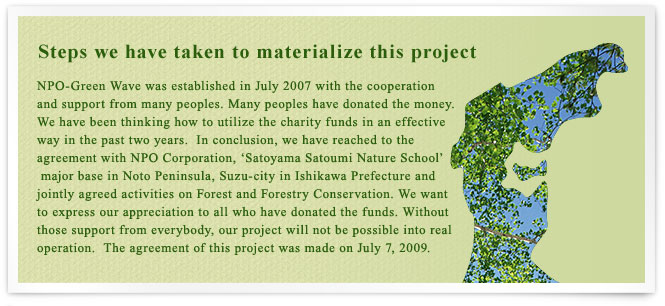 There are 4 major objectives on this joint project agreement

For the first and initial activity, we have planted the 200 nursery trees of Quercus acutissima Carruth (Kunugi), broad leaf tree, to the derelict land area within the Suzu-city on November 7, 2009. Aiming that within 3 years in future, we will replant the trees in Noto area. We did seeding of acorn of Quercus acutissima Carruth(Kunugi) in Tokyo during December 2009.

Letter from Mr. Choichiro OHNO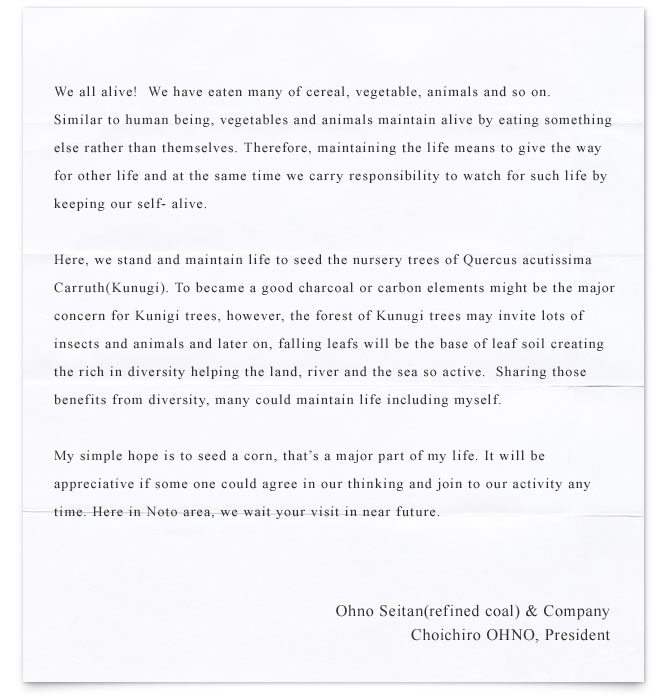 Wishing we could plant the trees in Noto Region Forests in future

We are targeting to do planting back in home town the nursery trees of Quercus acutissima Carruth(Kunugi) which were given from Noto area after 3 years and they are now in the seeding bed of NPO Green Wave garden in Tokyo.
PROJECT WISDOM
NPO Green Wave has been referenced from NHK, Japan National Broadcasting TV station and our activity related to Noto Satoyama Forest and Forestry project was the one for their program. The program, called 'Project Wisdom'was broadcasted by BS-1 by NHK, and the date of this TV program was September 23, 2010.