Environment Exhibition
May 23, 2017
We participated the environmental exhibition 2017 held at Tokyo Big Site.
It was crowded with lots of visitors from the opening as it was the opening day.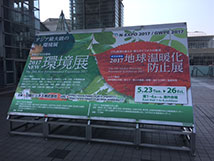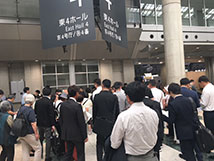 Since the theme this time was environmental business, we felt that there were many people who seemed have the impression of those who are very interested and enthusiastic about the exhibition.
The essence of the environmental business also depends on how we can circulate and manage the enormous amount of garbage from the lives that we live and the industries that support them, comfortably while considering the environment we think that it is a responsible task in the development of civilization. We thought that Green Biz was once again a building material ahead of the civilization, while visiting the environmental exhibition, feeling it again and spreading it.
We also met people who actively use moss to plant the rooftop and green the walls and taught the charm of moss. Since there are examples of using moss on green bisque, we hope that we can make further step ups hereafter.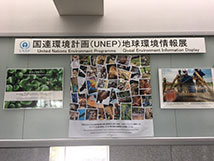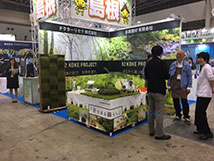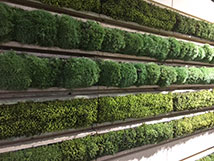 NPO-Greenwave received a letter of thanks from Izumisano City
April 25, 2017
We donated Green Biz G to the Izumisano City Hall Entrance Department at the end of March, but this time we received a letter of appreciation from Mayor of Izumisano City Mayor for this activity.  We are so pleased to hear from the city that visitors commented they liked this new arrangement and comfortability. Through these initiatives, we will continue to work to promote environmental preservation activities.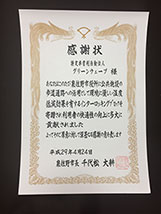 Portland Japanese Garden Completion
April 2, 2017
The cultural compound facilities which are in the Portland Japanese garden of the USA, State of Oregon "Cultural Village (cultural village)" were completed at last, and it was opened to the public on April 2.
Architect's corner Mr. Kuma Kengo and curator Mr. Sadabumi Uchiyama of Portland Japanese garden seem to use this Cultural Village as the place where the people who supervise and visit a garden as much as 300,000 people a year can buy participation of a culture event and an exhibition and a gift. NPO-Greenwave contributed the GreenBiz used as a roof of Cultural Village buildings.
"The city number one which would like to live" and the estimated environment forward city which introduced green infrastructure to Portland as management practice of rainwater. Green infrastructure is the coined word with Green which expresses green and Infrastructure which social infrastructure were combined and is the match which will use the disaster prevention nature has and the power of the improvement of water quality aggressively and do various problem solving in an area.
Green BizR is exhibited as Eco Living Roof in Cultural Village. We assume many people recognize "stormwater management" (the function useful for a rainwater measure at the time of heavy rain by making rainwater permeate and making them do running water slowly) as the excellent percolation and" water holding capacity which are the special quality of Green BizR through this exhibition, and it's being hoped when you can be a maid of community building gentle with the environment.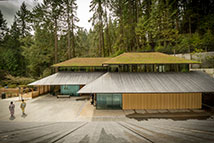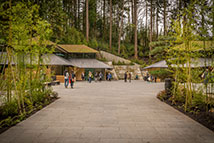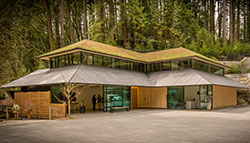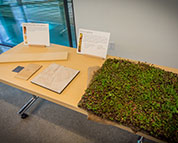 Izumisano-shi City office entrance.
March 31, 2017
NPO Greenwave contributed Green BizG to a sidewalk pavement of inlet zone in Izumisano-shi, Osaka city office as a part of environmentalism. This Green BizG applied in front of the city office, and was the quiet atmosphere with the accents of the dark gray using gray as the base tone. We think when the person who uses a city office would realize that this sidewalk is the sidewalk even the day when it rains as well as restraint of a heat island phenomenon are easy to walk.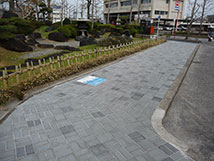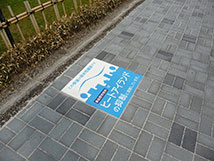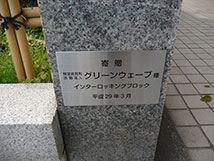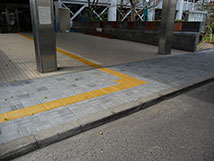 We appreciate that NPO Greenwave name was installed the plate by the city office this time again. When coming near to this office, please see it-Greenwave name, by all means.
Construction and building material exhibition 2017
March 7, 2017-March 10, 2017
We have participated in the "construction and building material exhibition" in Tokyo Big Site. The building material by which a submitting number is close to 300 exhibitors, the related product and the service which become the past maximum scale are exhibited this year. The booth of Komatsu Seiren located near to the entrance hall, and a Greenbiz wall stood out remarkably.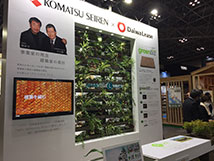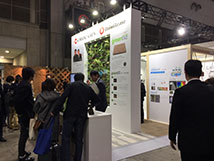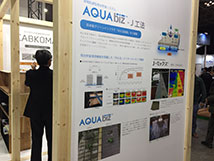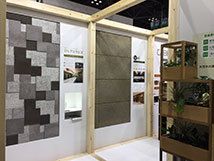 Many people also stopped walking and had an interest in an experiment of a Greenbiz this year.
"CABKOMA (KABOKOMA" where it's used for repairing and a fabric laboratory of Komatsu Seiren of the Zenko-ji scripture house preservation which is an important cultural asset "Fa-bo" that attention was attracted most in the exhibition again.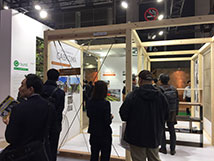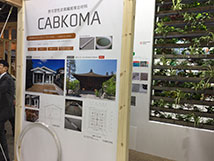 There is earthquake resistance by this thin material, said, many people were surprised and "KABOKOMA strand rod" (the one which twisted carbon fiver and did like a braid) was fingered actually, and when that there is a curve and that it's light-weight could actually feel, many peoples admired.
Additionally material reinforced with carbon fiver as a new product "CFRTPx wood" was introduced. You could just use thin carbon fiver and reinforce a shelf, and there was carbon fiver, and the strength was different with pear, and we thought it could be used surely. It's pleasant that it'll be commercialized from now on.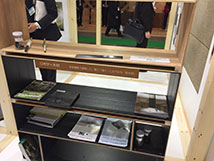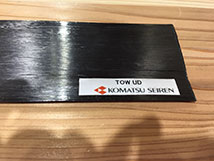 Portland Japanese garden
December 15, 2016
The green biz material NPO Greenwave contributed to "Portland Japanese garden" of the USA State of Oregon the other day is going to be used on a roof of the cultural compound facilities in the garden "Cultural Village (cultural village)". The green biz used this time, GreenBizR (common name green biz R). The super-minute numerous hole foaming ceramics foundations which could excel water holding capacity and the water permeability. The expansion project begun from autumn in 2015, at last, final stages. Installation of GreenBizR has also started. Formal opening of Cultural Village will be next spring. If it is completed, we'll report it again.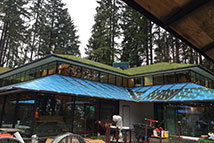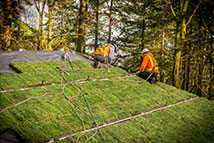 Community building green ribbon prize
December 13, 2016
A cultural village in Ibaraki-ken Sakai-machi won "community building green ribbon prize" of community building business of honors with moistening in Ibaraki-ken. This business is commended for the person who contributed to maintenance of the building which considered the surrounding view and excellent residential environment and various community building business.
A cultural village is the place where the Sakai-machi townsman festival with which we participated was held, and GreenbizG , NPO Greenwave contributed is used for a contact road in the facilities. The Greenbiz which was gentle with the environment and was also estimated by a design face. It is our wish that many people can think of this community building as the symbol of the town.
The effect of the improvement of water quality experiment
November 29, 2016
A seminar of Kibagata floating island project sponsorship in Komatsu-shi where NPO Greenwave also participated was held. The mechanism of an improvement of water quality experiment that Ike or pond in the Komatsu municipal Nakaumi elementary school site was performed targeted for the 5 and 6th grade of the elementary school and the result of the water survey after floating island establishment was confirmed this time. This experiment begun in June, 2015. The effect of which we thought wasn't obtained, and it was planned to establish in July, this year, but it was proved this time that there was a water quality improvement effect compared with the pond where improvement of water quality isn't being done. The foaming ceramics taken out from a pond was taken out, and children were examining whether there was plankton in GreenBiz using a magnifying glass. We assume in future, many children have an interest about the environment taking this as a start.
News letter from Portland garden
November 10, 2016
We have received a news letter from Portland Japanese garden. A meeting of advisory board is held by the letter in Portland on July 20, and if an environment stewartship in a garden is something suitable for a business model to carry, it's said that the Greenbiz we have donated was introduced. Even formal opening in 2017 is a little bit more, setting of Greenbiz will be also soon to start. When it is completed, we will make a report later.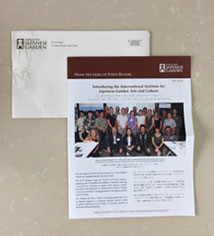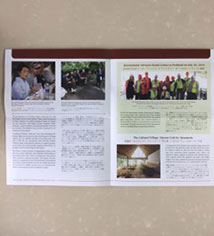 Festival of Sakai-machi
November 6, 2016
NPO Greenwave contributed GreenbizG to the road surface pavement of the communal area with which gymnasia, public halls, playgrounds and health centers, etc. are connected in case of repair of public facilities "Sakai-machi culture village" in Sakai-machi, Sashima-gun, Ibaraki in June, 2016.
In this connection, we were invited submitting our booth to a festival of Sakai-machi, sub-title 'together-Working hard' this time, and we established the booth jointly with Komatsu Seiren.
Many plans were being exhibited this time such as rehabilitation city and sports in a bazaar, traffic and other simultaneousness in which a lot of booths equal an environment enlightenment and a positive health section including an athletic meet for this year's festival of Sakai-machi people, and a party had gone to a meeting place from early morning.
NPO Greenwave experimented on water pickup and the water permeability of the thing which worked to assist f culture village repair, exhibition of GreenbizG (pavement block of multiple functions) and GreenbizL(the louver type wall planting trees) and Greenbiz at the common booth, and many people stopped walking and raised lot of questions. Quite frankly, there was a chance to talk about with visitors and we have asked about the GreenbizG and got the opinion, 'it is not slippy' resulting the feel of 'safety' as well as 'the color also looked pleasant well', several visitors commented that 'we'd like also to lay by all means at a home' which is walking and feels good, and it was possible to realize that a person in Sakai-machi is able to realize material's quality good.
NPO Greenwave like to come into action so that it may be also built for the role of the environment protection in the town from now on.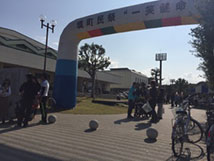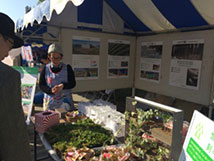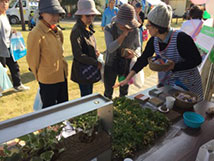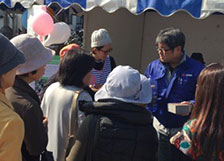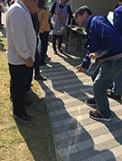 Kibagata floating island project. The floating island announcement ceremony.
June 10, 2016
The announcement of the artificial floating island where a water quality depurator in Kibagata was installed and performed in Komatsu-shi, Ishikawa Kibagata park west, park view lounge and a garden path around the west park on June 1, 2016.
Kibagata floating island project has begun to develop the next generation-type artificial floating island where a university, a citizen group, an enterprise and polity cooperate and purify the water quality in year of 2013 and NPO Greenwave also participated.
A demonstration experiment in the artificial floating island improved via an experiment at Komatsu municipal Nakaumi elementary school this time.
This artificial floating island is pounded to granularity, and 2 sets of "power generating unit" with 8 "vegetation units" in which 8 kinds of plant was planted and the solar panels which make water circulate by a pump is connected, and Japanese parsley, a calamus and wall pennywort have formed on the Greenbiz packed in a bag. There are phosphorus which causes the water contamination and a role of making them absorb nitrogen, and Greenbiz is planning to exchange collection around 2-3 months. By the way, the phosphorus and the nitrogen Greenbiz absorbed include important nutriment for a plant. It is expected also to inspect this Green biz in secondary use to soil improvement material.
An artificial floating island experiment is until the end of May of next year. Greenbiz makes the water beautiful, that, it'll be the further attractive material which is also gentle with the environment when it's possible to reuse, to agriculture. It is meaningful to know the future result.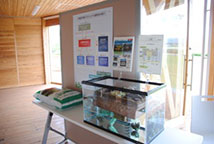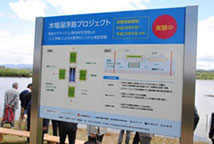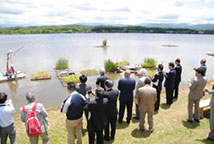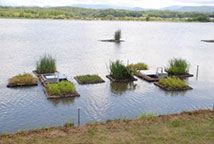 The Resuscitation Project of pine forest by Dorin-cho
March10,2016
On March 5, 2016, Dorin-cho Forest Union has organized planting of Japanese black pine trees using GreenBiz. The place is in Nomi-shi, Ishikawa Prefecture near the coast of afforestation. NPO-GreenWave and Dorin-cho Forest Union both jointly participated the seminar on the wake of the local creation seminar which was organized by Kanazawa University in September last year, we heard about the resuscitation project of pine forest by Dorin-cho Forest Union. Since the GreenBiz Carew has the effect of withering of pine is reduced from the fact the soil improvement, as part of its environmental protection activities, to donate the GreenBiz Carew 600 kilometers and some seedlings in this tree planting Board (50 seedlings of seedlings pine I(one-unit). (info at: http://eco.chunichi.co.jp/news/2016/03/003006.html)
Planting activities were conducted by the members of the Dorin-cho Forest Union, the participation was more than 150 people from 18 organizations and companies, including local residents, granular or powder form to the hole in the 3 m intervals in the forest reserve of about 2,600 square meters that's the GreenBiz was planted with nursery seedlings. We could not participate in the tree planting gathering this time unfortunately on that day. However, we feel so fortunate that we could participate a little on this project. We pray for the successful planting of this GreenBiz Carew in future to spread to other regions, too.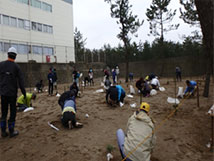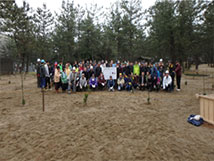 ARCHITECTURE + CONSTRUCTION MATERIALS 2016
March8 - March 11,2016
Same as last year, we participated ARCHITECTURE + CONSTRUCTION MATERIALS at Tokyo Big Site-Tokyo International Exhibition Center which was held for 4 days starting from March 8 until March 11. At Komatsu Seiren Company's exhibit booth, they have exhibited the GreenBiz material products which was jointly collaborated with Daiwa Lease Company and it was introduced in October previous year-refer the news release dated October 14, 2015 by both company's www address; www.komatsuseiren.co.jp and www.daiwalease.co.jp.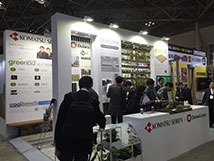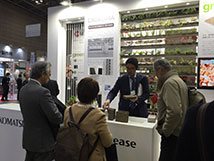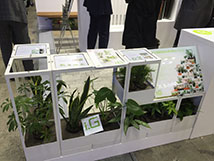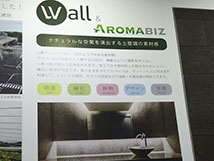 Jointly developed product was "AROMABIZ (Aromabizu)". By adsorbing the aroma to the foundation with a high water-holding capacity is the strength of GreenBiz, it seems to be the interior material that can be sustained oozes the smell in the room. This AROMABIZ is, also been used in the toilet wall of the fabric laboratory of Komatsu Seiren headquarters site, Komatsu City, which was completed in November last year, "fa-bo (Furbo)", you can actually see. Taking advantage of the texture of the mud walls tone with the material, that will be able to realize the interior with a design, we felt the future values.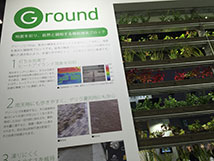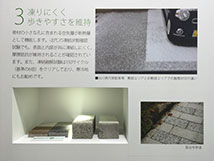 As for the rest, attracted exceptionally visitors of attention was "GreenBiz G". Green Biz G as "eco-block Biz method" to the reservoir penetration of rain water, in December last year, has been the technical evaluation certified by Public Interest Incorporated Association for Rainwater Storage and Infiltration Technology. Rainwater Storage and Infiltration Technology Association spread the results of research and evaluation concerning rainwater storage penetration for the city of the water circulation system regeneration, is the organization that carried out awareness-raising activities. GreenBiz G seems to have obtained outflow suppression of rain water, the road surface temperature suppression, the evaluation in terms such as surface anti-freezing.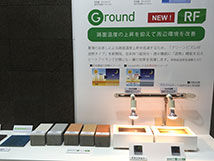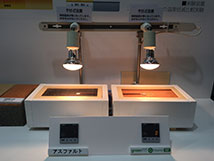 Also this time, the function of the traditional GreenBiz, can reduce the road surface temperature rise of summer sunshine "GreenBiz G-RF (thermal barrier type)" had been introduced as a new product. Now that the heat island phenomenon is important, there is also likely to be utilized in future Tokyo Olympic Games, etc., it was very interesting. Also disseminate these products as GreenWave, we think that if we help making the city friendly to the environment, even little by little.
Letter of appreciation for the donation from the Portland Japanese garden
March 1, 2016
NPO-GreenWave have donated the GreenBiz materials to Japanese Garden, 'Portland Japanese Garden'(opened in 1967) located in Oregon, Portland in the United States of America. The garden was designed in 1963 by the landscape architect, Professor Takuma Tono(1891-1985) of Tokyo University of Agriculture. Nobuo Matsunaga-Japanese ambassador to the United States has been hailed as the most beautiful and authentic garden in the Japanese garden located outside of Japan. And with this occasion, we show the actual letter of appreciation for the donation from the Portland Japanese garden.
For your information, GreenBiz materials that we have donated will be used for their compound cultural facility which is scheduled to open in 2017. We anticipate the completion of this facility so that many visitor could observe GreenBiz materials.
We received the certificate of commendation from Komatsu City
December 25, 2015
NPO-GreenWave have received the certificate of commendation from the Mayor, Shinji Wada on this day at Komatsu City Hall. This commendation for us is for our donation of GreenBiz materials to Science Hills Komatsu. Mayor Wada expressed that paved road and road surface temperature display board are well accepted by the people. NPO-GreenWave hope that GreenBiz material road will be observed by many people and it will contribute natural environments.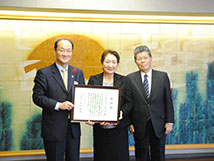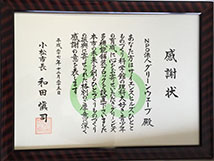 Appreciation Ceremony in Natadera
December 25, 2015
NPO-GreenWave have donated the GreenBiz material to Natadera Temple, on this day, The certificate of commendation from the temple, ceremony was held. Work designing by Komatsu Seiren Company and construction processed Nippon Road and NPO-GreenWave have jointly attended the appreciation ceremony, the certificate were presented by chief priest Kizaki Keisen. Chief priest Kizaki-san indicated that by the effective use of GreenBiz materials, it helped very well both temple's landscape and protection of trees. Keeping the natural environments for the trees and the balance for that particular area is just what we are aiming to contribute in the community. Natadera Temple will celebrate 1300 years since its opening the service in 2017 and it is expected there are many visitors for the celebration. GreenBiz material has skill in water absorption and mud splatter, also eliminate road surface freezing. We feel very happy that the visitors could easily worship and observe the cedar trees that Kaga Load Maeda Toshitsune donated in early Edo period.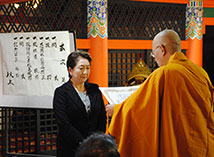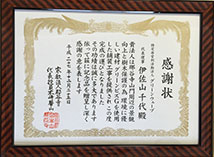 Science Hills Komatsu
December 20, 2015
We've set up Manufacturing Science Museum called 'Science Hills Komatsu' which enables rapid charging and also used 'GreenBiz Ground(GreenBiz G) in the pedestrian crossing zone, in addition to this, we set up to install the measurement of the road surface temperature. At Science Hills Komatsu located in front of JR Komatsu station in Komatsu city, Ishikawa Prefecture and its main purpose is to study 'science and outer space to be utilized in making ordinary goods'. In the square of the facility in and lawns are installed gimmick of 100 surrounding science and people can enjoy the fun of science. 300,000 people already visited the facility in the two years even before the official opening. Visitors included with elementary school pupil and many family type party can truly study the fact at this facility on suppression of the heat island phenomenon, the temperature display board that will make effective for the total balance of environment.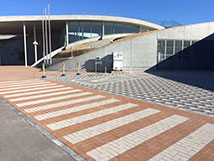 Steel Memorial Muroran Hospital
December 10, 2015
During the end of November, we have conducted placing GreenBiz G in front of West Gate building administration office of the Steel Memorial Muroran Hospital located in Muroran, Hokkaido. This hospital is the base hospital in the eastern part of Muroran area and many people are visiting for the care of physical condition. It is often reported that rain falls normally stay on the road and it freezes during the winter season. The roads with GreenBiz may not produce freezing even winter time. Therefore, it is expected that GreenBiz materials may effectively used even in the cold temperature region.
(Pre-Construction)

(After construction)
Natadera temple
October 23, 2015
We have processed 'GreenBiz G' installation for the approach of Natadera Temple, located in Komatsu, Ishikawa Prefecture. With lots of national important cultural properties in the areas, often known as venerable temple, Matsuo Bashō, once visited this temple and left famous poem 'The Narrow Road to the Deep North' and it shall be 1300 years anniversary in next year, 2017. In this connection, they are celebrating 'Natadera Festival' this year and thus, we, NPO Greenwave made the donation of GreenBiz G as the environmental improvement action. Temple's approach was asphalt pavement before and it has been disturbed with the several cracking by the natural effect of trees, rains and wind-force. Puddle of water often seen after the rain even approach was asphalt paved road. After replacing the GreenBiz G materials, all troubles were cleared and worshipping people visiting the temple seemed very comfortable walking this approach, at the same time it helped the tree protection and growth, thanks letter received from the chief priest, Keisen KIZAKI.
Within the area of this temple, the famous Japanese cedar trees which hand planted by Load Maeda Toshitsune during the Edo Era. We hope that high potentiality of Water absorptivity of GreenBiz G will support for the growth of those trees within the temple.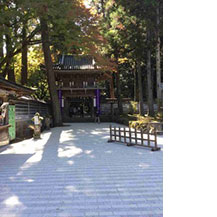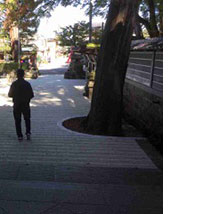 Seminar 2015 for the Reconstruction of Regional towns and cities-Future Rebuilt Regional towns and cities
September 26, 2015
NPO Greenwave initiated the sponsorship first time at Kanazawa Institute of Technology with the theme of 'Future Rebuilt Regional towns and cities'. It is so fortunate that the place of Ishikawa Prefecture has the strong ties with us(NPO-Greenwave), such involvement on Conservation of Satoyama, water quality activity at floating island within Kiba water park and the location of headquarter office of Komatsu Seiren Company Ltd. We feel so grateful to all the people who participated this event.
The seminar and the event was originally brought up in connection with how the regional towns and cities will renew to construct its style and same time how to establish ties with central government. As a result, we came to the conclusion to make a contact to Mr. Saruwatari, Deputy Director-General from the Ministry of Internal Affairs and Communications to talk on the central government policy for the future relating to regional towns and cities. At the same time, we made an approach to Nippon Road Co., Ltd, Mr. Seki, Manager Road construction to provide the information on user-friendly yet considering to environments relating to pavement technology.
One of the main events was panel discussions at the site; Mr. Saruwatari acted as a commentator with the coordination by Professor Mizuno of Kanazawa Institute of Technology, panelists by Professor Matsubayashi of Kanazawa Institute of Technology, Mr. Tanaka, deputy Manager for the Town Planning of Ishikawa Prefecture and President/CEO Ms. Nakamide of Ante Company. Very meaningful talks and discussion were exchanged at this event especially on 'spontaneous power' which is the key for the rebuilding the regional towns and cities. The discussion went very smooth and valuable opinions were performed which made the audience so attractive.
This time, we have received many positive comments and opinions. We wish we could host similar seminar/event in near future and it will be announced in our home-page when it is finalized. We feel thankful to those many staff and people for the effort and contribution for the seminar/event this time.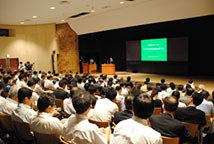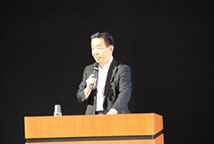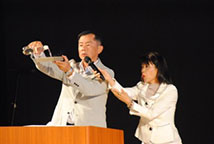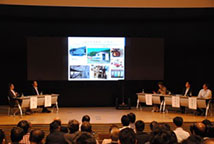 Universal Design Camp 2015-Regional towns and cities-Challenge for the future
July 4, 2015
Seminar was being held under the title of 'Regional towns and cities-Challenge for the future' at Matsumoto University. NPO-Greenwave is treated as cooperative supporter of the seminar and very much honored to welcome the opening speech in the beginning. Mr. Saruwatari, Deputy General Director from the Ministry of Internal Affairs and Communications started the lecture on building appealing the theme for 'Challenge for the attractive towns and cities in Future' followed with panel discussions. Everybody recognized that the seminar was so meaningful and attractive by hearing the exact sample of closed-connection with local government and central government body to think on variety of steps or schemes for the materialization of future towns and cities.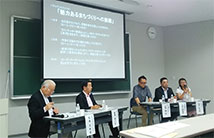 We assume it gave a great appeal to most of the seminar audience about our project, NPO's 'Conservation of Satoyama of Ishikawa Prefecture'.
The Floating island project was started
June 26, 2015
This time, with the great effort provided cooperation with university, community based organization and corporate enterprise and government body, NPO Greenwave is decided to participate this project. The project is called 'next generation artificial floating island'. For the starting purpose, we have selected to place the floating island in the swimming pool of Komatsu city Nakaumi-Elementary school. The main purpose is to place the equipment which will investigate the quality of water, element of water and so on. Along with this placement of floating island, Professor Nagao of Kanazawa University held the seminar to explain about his exercise and study to elementary pupil on the effectiveness of water elements to all natural life forms. Students seemed very interesting from this study and we are also looking forward for the future investigation of study as well as exercise report.

Fujiya Hotel Annex, Kikkaso, in Hakone
June 14, 2015
We paid a visit to Fujiya Hotel annex, Kikka-so Inn in Hakone Miyanoshita to encourage peoples of the hotel and to watch our material-Greenbiz conditions. The hotel annex, Kikka-so is the historic buildings with Japanese style gardens which was built as Miyanoshita Imperial Villa of the imperial family. We are pleased to provide our products of Greenbiz materials. In October 2013 Green Biz G in driveway and in June 2014 we were allowed to set up same materials in the parking areas.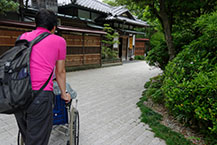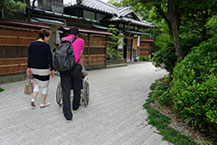 We heard lot of good comments as a result of using greenbiz materials. It made easy away from splashed mud after the rains and helps from buried court shoe of the woman. Also it eased wheelchair users moving smoothly.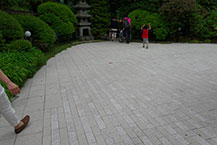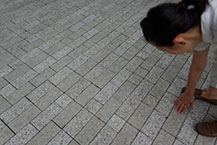 Upon the constructions, Greenbiz materias were combined with natural stones formulation, and thus, historical ellements of the classical facility including the certain landscape was not destroyed.
Greenbiz Materials Exhibition Hall, renewal opening ceremony
May 11, 2015
On May 11, NPO Greenwave's Director in chief has participated 'Renewal Opening Ceremony of Tsurugashima Exhibition Hall(Ground)' where Greenbiz materials were showing under the supervision of Token Company Ltd., Komatsu-shi, Ishikawa Pref. This ground exhibits all types/mixture of greenbiz materials in use under the main theme of 'Revolution of Garden' and providing planting base materials, color combination base materials, and so on. After the tape-cutting ceremony, NPO Greenwave's Director in chief did a congratulatory speech.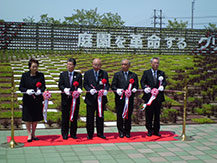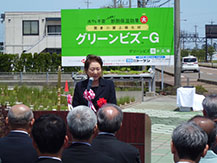 Before the renewal of this hall, they only exhibited one kind of slope with the group planting of Sedum, however this time, they are able to arrange several combinations with Sedum, Pennisetum Setaceum Rubrum and Carex for slope greening and for the wall greening arrangement are with Trachelospermum Asiaticum 'Hatuyukikazura', Hedera and Euonymus japonicas. With these 6 kinds of planting combination by 5 different color base materials the whole exhibit hall gives perfect gradation of visual simulated and surprisingly changed the whole garden as 'Appreciation of Garden' with 3 Dimensional arrangements which everybody can enjoy viewing. This design was planned and made by Ms. Yuki Haba of moyadesign office.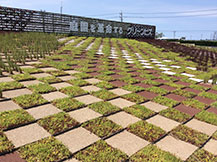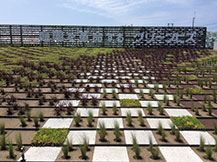 Access to this place: it is located in the Ishikawa Prefecture Komatsu along Tsurugashima highway that connects the Komatsu airport and the Hokuriku Expressway. For those who visit near this place, we welcome you to come and see the garden.
The presentation of Greenbiz materials to the Minister of Environment, (MOE) Mr. Yoshio Mochizuki
May 7, 2015
The other day, we are able to meet Mr. Mochizuki, Minister of Environment to show our material-Greenbiz together with Environmental Policy Bureau Director and Environmental Policy Bureau Manager and conducted the water retentive of Greenbiz. The presentation took place in Minister's office within Ministry of Environment. MOE has started the study on 'Heat Measures' in 2020 Tokyo Olympics and Paralympics because it will be held during the summer seasons. Our presentations were well accepted and everyone within MOE seemed very positive of Greenbiz product on water retentive.
Greenwave brochure production
April 20, 2015
As mentioned earlier, Greenwave's brochure production is now completed. It contains many of our activities, promotions, etc. and we hope many people will actually see this brochure and understand our activities and we request everyone's support in future.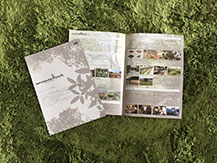 Kumamoto Pref. Institute of Animal Health-Reconstruction Work(partial)
April 15, 2015
During the end of March,2015, we have conducted the partial work to place our material-Greenbiz G to the place of pedestrian corridor and car parking area of Kumamoto Pref. Institute of Animal Health building. Freshly paved parking area with the use of Greenbiz G is water retentive and greening treatment is arranged.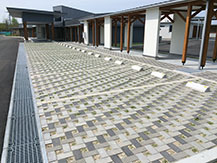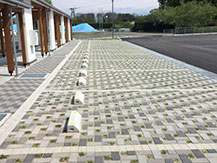 The picture is taken during the middle of April, 2015 with the lawn grass come out. For those who lives near this facility, please pay a visit and observe the difference between a road paved with asphalt and area paved with Greenbiz G. You can easily feel the difference of sensory temperature.
Architecture and building material Exhibition
March 3 ~ March 6, 2015
Komatsu Seiren Company have participated with the products to ARCHITECTURE+CONSTRUCTION MATERIALS 2015 which was held at Tokyo Big Site in Odaiba, Tokyo Bay area during March 3 - March 6, 2015. This trade show is getting very popular among construction/architecture industry. Please refer the site; https://messe.nikkei.co.jp/en/ac/ for the details of event.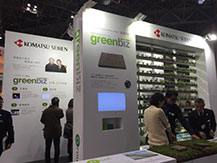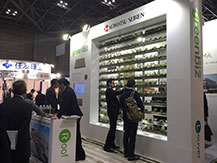 'Greenbiz' material by Komatsu Seiren Company is widely demonstrated and particularly, 'Greenbiz Louver' was exceptionally took audience eyes for the lateral wall covered by the greens.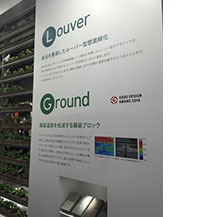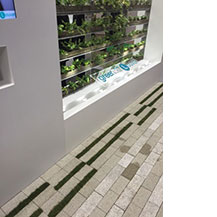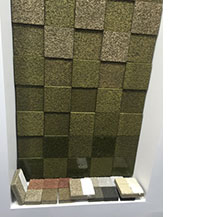 'Greenbiz-Ground product is also introduced at the site. Everyone is so astonished with the demonstration of pouring the 500ml Pet-Bottled water. 'Greenbiz' showed the best quality of such material with its high water absorbability and permeability. Please refer the site; http://www.komatsuseiren.co.jp/en/greenbiz/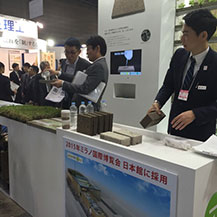 Komatsu Seiren has also presented CABKOMA. The world's first earthquake-resistant construction method heat which adopted the carbon fiber rod thermoplastic carbon fiber composite material CABKOMA (Kabokoma). CABKOMA is a composite material impregnated with a thermoplastic resin to carbon fiber. The development and ultra-fine porous sponge-shaped ceramic base greenbiz which is eco-building materials, the seismic method using the world's first thermoplastic carbon fiber composite material CABKOMA strand rod to seismic reinforcement. Because the tensile strength is a high and lightweight, while function as a structural material, it also has excellent design to produce a lightness. This by using the world's first technology not so far, the former headquarters building of Komatsu Seiren under construction (Archive Building) (scheduled for completion in November 2015).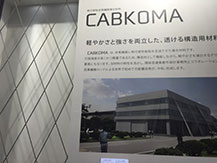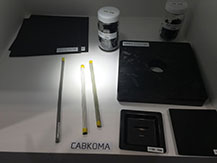 We assume that the materials will attract people and will gain more attention in the industry. Greenbiz materials are exhibited at the Milano EXPO 2015 Japan Pavilion.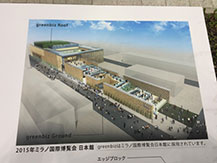 Greenwave brochure production
February 12, 2015
8 years have past since the establishment of NPO Greenwave, thanking to all of you that we could expand the variety of activity. And this time, we have decided to produce handy brochure to explain our activity, project, event participation, etc. As soon as we complete brochure production, we will let you know all about distribution.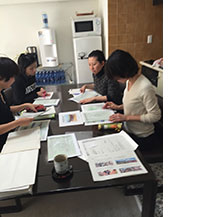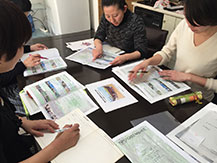 Greenbiz Activity report
August 12, 2014
In 2013, with the attendance of Mr. Shirakura, Mayor of Hokuto Town and Mr. Nakayama, Chairman/President of Komatsu Seiren Company Ltd., the meeting was held at Tokyo's NPO Greenwave office to discuss about the possibility of placing the Greenbiz materials in the area of Mega-Solar Electric Generating Plant in Hokuto town. City mayor was pleased to accept our offer however mayor said there is a regal regulation to be cleared for the actual implementation. After the several hours of talks,we came to the conclusion that the materials of Greenbiz will be donated as a test material from NPO-Greenwave near the place of Stone Monument in the flowerbeds.
After the completion of settlement of Greenbiz materials in the Plant, we heard lot of positive comments including weeds care and petal removal which Greenbiz material made easy and very effective than old type of flowerbed. Fundamental construction including continuous water sprinkling that Greenbiz will bring for the efficient and gentle to environments. We will do all possible for the recognition of Greenbiz material in future.