Plant seeding
November 30, 2008
The day was full of sun-shine and we conducted the seeding. We have prepared 5 seed plots. In the lower basis, large grain soil placed and middle zone, the soil with reddish soil and leaf soil in the combination of 70/30 mixture fixed. And then, we sow seeds all over the plots. Mixture of soil were also placed on top of it and full of water has been poured. From now on during the observation periods, after a sprout begins to shoot, we transfer the pot for naturalization.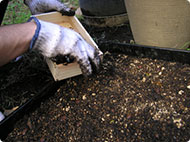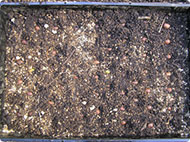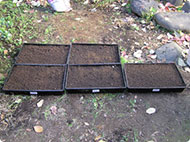 Seminar(meeting) for volunteers for the Sea Forest project
November 18, 2008
On this day, the participants of total 16 organizations who are doing various volunteer activities have gathered and each participant have studied for the future activity including seed storage, planting, etc. Each organization has given the target of seeding and that of Green Wave is as follows;
+ Quercus phillyraeoides - 30
+ Daphniphyllum teijsmannii - 50
+ Ulmus parvifolia - 20
Total of 100 seeding of above is our target for the 3 years from now on.
Preparation for plant seeding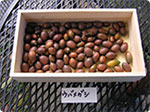 Quercus phillyraeoides:
Collected seeds will be preserved in water for couple of days. The seed float on water, sink in bottom, or cracked will be taken away. Only the good ones will be stored in proper temperature in refrigerated chamber.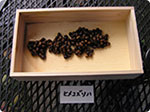 Daphniphyllum teijsmannii:
It will eliminate flesh of fruit of black purple color in the water to make seeds. At that timing, it is better to pick up flesh of fruit for the germinating rate. It will be kept in pouch in refrigerated chamber from drying.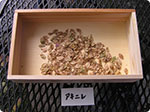 Ulmus parvifolia:
After collection, it will be naturally dried and will be kept in cool temperature.
Seed Collection gathering
Acorn pick up day November 15, 2008
This day, we have started seed collection from the point near to the Statue of Liberty in Odaiba. Gathering with lot of volunteer organizations, we gained the special permit to enter in Odaiba Kaihin Park and Shiokaze Park from the Tokyo Metropolitan Government for the collection of seed for the nursery trees. Usually, we may not pay attention to many kinds of trees in Odaiba area. After observing many trees, we were able to collect acorn and got 3 kind of seeds.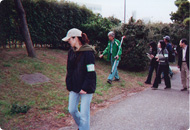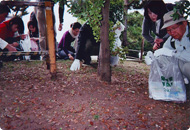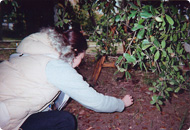 "Quercus phillyraeoides"
Evergreen Bread-leaved tree in Quercus of Fagaceae, oval figure 2cm seed known as acorn(or Donguri).
"Daphniphyllum teijsmannii"
Evergreen High tree in Daphniphyllum Macropodum, seed is black purple color fruit like a blueberry, flavor and/or taste is completely different from blueberry. Birds may take as a food supply and drops for vegetation.
"Ulmus parvifolia"
Decidudus High tree in Elm, called winged seed and looks wing like fashion. Tree may change color same as leaves, looks like falling-leaves and wind may help inspersion.
Tree Plantation event
2008(see actual scene)
On this day, we first made a step the Sea Forest area. Stepped out from a private chartered bus from the Tokyo Tele-port station, the area spread in front of us was the sea-enclosed which gave us that this land will be the site for the rich forest to produce clean and green fresh air. Tree plantation was conducted with the little rain but all participants were so excited in the activities. Our area(Green Wave team) was the land of slope, and we planted Baby berry and Machilus Thunbergii praying for a grow. Teru Yamaichi-san of R's Associate who gave us a great support in our previous tree plantation have also participated this day. We express our thanks to him.







with the temperature of 11.5 degrees lowest and 20.8 degrees highest centigrade
November 1, 2008
The green leaves were bit damaged by pests several times during the summer. It has settled when came in Autumn. We found weed in each pod and took them away. When winter comes with lower temperature, we think we have to prepare to protect from the frost.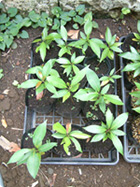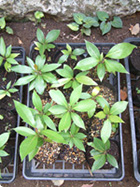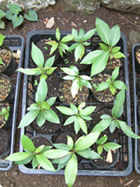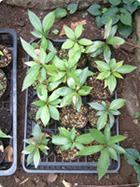 with temperature was 25.5 degree highest and 22 degree lowest centigrade
September 21, 2008
Through the observation last time, we found the insects eating the fresh leaves, kind advice came from Tan-san from Minatoya Engei that Mokusaku-eki(wood acid) will be effective for those insects. This time, we could not find any insects and all small trees looked healthy. In addition, Mokusaku-eki(wood acid) may help germicidal effectiveness and for the soil amendment. We will see and use this Mokusaku-eki for a while. you can see first flush.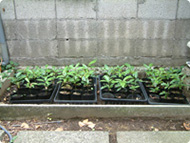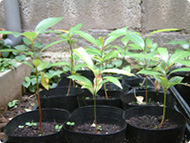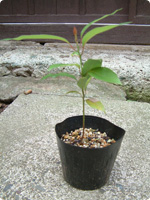 with the temperature 22degrees lowest, 24 degrees highest centigrade
June 20, 2008
It has past almost 2 months after setting the plants, started with 87 pots now growing 50 pots which we see very healthy, there was no rain since June 15th, today we had a few rain.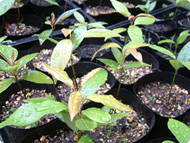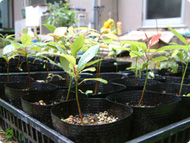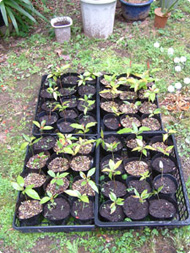 with the temperature 17degrees lowest, 27degrees highest centigrade
May 22, 2008
This day was hot 'summer day' and watering seems to be increasing. 15 pots withered. We have taken care all seeded pots equal, watering, same environmental condition, it seems those nursery trees were rather weak from the beginning. It was reminded what Professor Miyawaki told to us at his seminar that trees will grow finally with healthy condition after experiencing the severe natural environments.